Update 13 July 2013: After the deprecation of the Strava API, this tool no longer works. However, an updated version of this segment gradient tool is now available here.
So this tool plots elevation profiles from Strava data. OK, so maybe the profiles aren't amazingly pretty.  But I had fun making them look somewhat like the elevation profiles from a certain famous cycling event!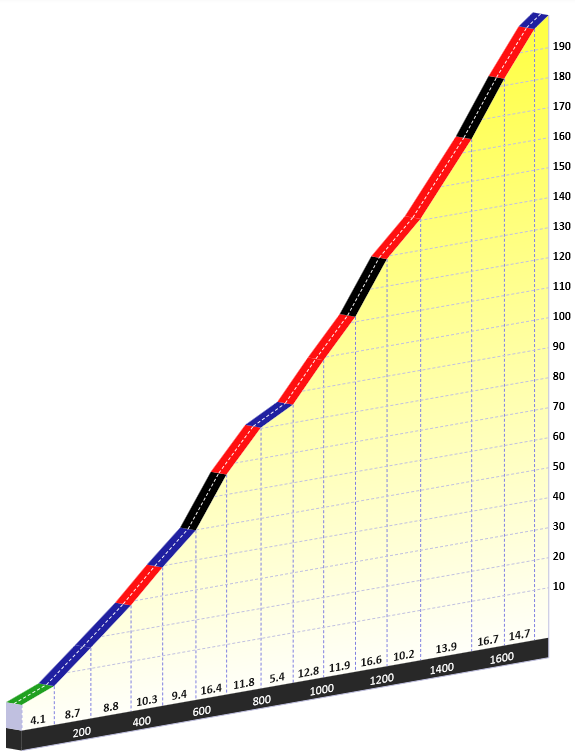 Lipscome + Nicholas climb
This little hacked-together piece of JavaScript will plot the elevation from a Strava segment (in metric units only, of course!) and uses the familiar green-blue-red-black styling to represent the severity of the gradient.
I wrote the code to fulfill a specific purpose: generating graphs for the Hobart 10,000 ride.  But I figured I'd make the code and tool available for anyone to use or fiddle with as they see fit.
This tool requires IE9, Firefox, Safari, Chrome or any other canvas-aware browser.  If you plug in bad data, you'll get bad results.  So don't.  All the parameters dynamically refresh the profile, except for the segment ID field, after which you'll need to click Load Segment.
If you want to play with the source yourself, the only thing you need to do server-side is plug in the data from: http://www.strava.com/api/v1/stream/segments/segmentid
Go knock yourself out here: http://hobart10000.com/segment-gradient.php
Updated 15 Aug 2012: The tool now does isometric projection, which I think looks quite a lot nicer, and I've tidied up the user interface and added a few more controls.  As noted by Jonathan in the comments, it doesn't do too well with downhill segments — the tool assumes it is an uphill segment at present.