So I got my usual daily email from $registrar today, telling me that my world is going to change and I just have to, have to, buy a new domain name from them for the today's brave new TLD. Today's must-have TLD is .website, and yesterday's was probably .ninja. I'm offended on behalf of Samurai, because I wasn't offered a .samurai domain.
Today's must-have TLD is .website.
I enclose below a snippet from the email. I think it speaks for itself: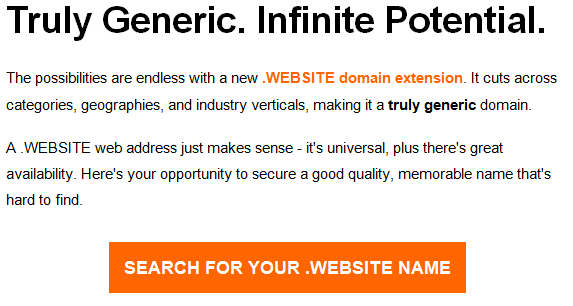 A morbid fascination caused me to click the link provided. I was given a list of 236 different TLDs, ranging in price from $8.98 for .uk (which, by the way, I can't actually buy), all the way through to a princely $3059.99 for .healthcare.  I was surprised that .dental was so affordable, at a mere $59.99.
Here's the list I was offered (click for the gory detail):

I have a few keyman.* domains already, purchased over the years before we managed to acquire our blue label keyman.com.  It'd be nice to fill out the collection. So how much for the full set? Well, the full set of "New Domains" offered by one particular registrar, anyway. Today only, the full set will cost just $26,761.45. That's doesn't include most of those two letter country domains, .la and .io and .tv.
Today only, the full set will cost just $26,761.45.
My view is that every TLD issued now increases the value of keyman.com.  I can't see any way that the average small company is going to be blowing $25K a year on maintaining a set of worthless domains, just to prevent squatters or even to maintain a registered trademark. Some very large companies might find it worthwhile to register, e.g. microsoft.tax. But me? Nup. I'm not renewing some of my unused lower value domains, and you're welcome to them.
The gold rush is over people.