We just moved into our new house in a small, semi-rural suburb of Hobart called Ridgeway on the side of Mount Wellington. We are really enjoying the new house but I no longer have an office at home. So I now ride my bike to work 5 days a week.
Three days a week I ride 'down' the mountain to Kingston and back home up the mountain again in the evening. The other two days, I pop into Hobart instead. Why is 'down' in quotes? Because even the downhill route involves 250m (800ft) of climbing. There are many possible routes but I have selected three on the basis of traffic and road surface: the shortest route is a very rough, steep dirt road and I'm not keen on riding it on my road bike; I also try and avoid heavy traffic routes. The route I take depends on just how tired I am feeling:
Red – short but steep (over 15% in parts) – 21km (13 mi) – only when I'm feeling crazy!
Blue – intermediate and scenic – 23km (14.3 mi) – my favourite route
Green – longer but easier on the legs – 27km (16.5 mi) – save it for when I'm exhausted (Fridays?)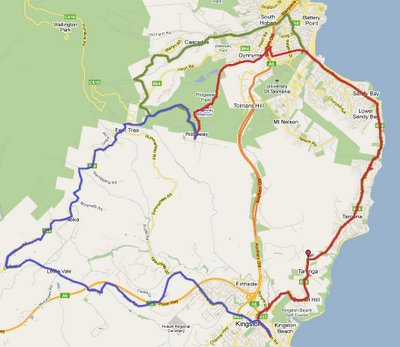 The total ascent is actually almost the same for all three routes – 200-250m (650-800ft) in the mornings and 500-600m (1650-2000ft) in the evenings.



In a normal week, I'll be riding roughly 200km (120mi) and climbing 3500m (11,500ft) in my commute. Right now I feel the same as I did when I first started cycle commuting 2 days a week a couple of years ago — rather tired…