On Saturday, Iain, Chris and I drove up from Hobart to race the Grindelwald Challenge. This is a 75km race over a lumpy course, 4 laps of a riverside circuit with a decent 3% climb, followed by a steep 11% climb to a hilltop finish in the village of Grindelwald.
I didn't feel very prepared for this race, given lots of sickness and time off the bike in the preceding month. But as opportunities to race are so few and far between, I decided to have a go anyway!
The Saturday dawned bright and cold, with the car thermometer dipping to -3.5 C on the 2.5 hour trip up to Legana where the race was to start.  We had an early start, too, as I picked up Chris at 6:45am before heading past Iain's place and onward.
We arrived in Legana with an hour and more to spare before registration, so Iain and I decided to ride the circuit to get an idea of what we'd be up against. Chris decided to read the paper.
The circuit did not seem too challenging, with the Brady's Lookout climb in the second half of the circuit averaging 3% for 3km. We then cut the descent short to scope out the final climb. This was much steeper but less than a kilometre in length.  I noted that my heart rate seemed to be high relative to the effort I was putting in — normally I am about 10 bpm below Iain but was sitting right on the same heart rate as him for most of this part of the ride.
The handicapper put Chris in B grade, myself in C grade, and Iain in D. The time gaps between the grades were 10 for E, 5 for D, 4 for C, and 4 for B. With 90 starters, each of the grades had a decent field, except for A, which it seems was made up almost exclusively of Genesys riders!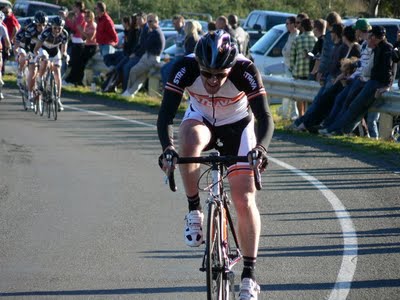 Brady's Lookout summit — first ascent, 4th place I think.  When I was doing OK. (Photo: Gary Woodfall)
C grade started off at quite a manageable pace, unlike my previous race — where we were flat out from the gun.  The pace gradually increased on the road along the river, but I was feeling good and my confidence levels were increasing as I thought that I'd be able to stick the pace.  We hit the climb and I was able to ride it tempo without getting out of breath or feeling my legs.  So far so good.  Had a half-hearted effort at taking KOM points at the top of the climb but as I'd already decided that wasn't my goal didn't make the top 3.  I looked at my heart rate on my Garmin a few times and was surprised to see it over 180 given how I was feeling.  Things were looking good.  Second lap was a little slower than the first lap, and I sucked down a gel on the second descent.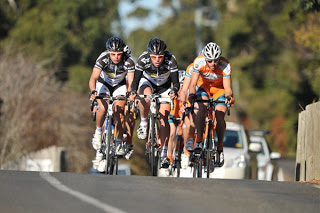 A Grade on Rosevears Drv (Photo: Will Swan, The Examiner)
Half way along the river on the third lap I realised that I was not noticing any scenery any more, focusing on following the wheel in front of me and getting off the front of the pace line as quickly as possible.  We hit the climb, and I was sticking in the bunch, the pace was manageable.  Then D grade was spotted up the road.  Up went the pace, and I was breathing hard, struggling to keep pace, let some of the bunch go past me, then suddenly realised that the bunch was smaller than it used to be and I was off the back.
Looked back and B grade were bearing down on me.  I put in some hard effort but I was not getting back those few metres, went over the top of the climb 30 metres behind the bunch and bonking badly.  B grade streamed past me on the descent and I could not pick my pace up enough to pick up a wheel.  I was gone.
The fourth lap was an exercise in fogginess, remembered I had another gel so as I descended, I ate that as well but it was too little too late.  Rode along at 30km/h instead of 40km/h — legs wanting to cramp…  A grade roared past in a blur of orange.  I caught a couple of other riders, one from Hobart I knew vaguely, and then managed to put a bit of effort into the final climb.  Dropped my water bottle just after the turnaround before the climb and decided to stop and pick it up — it wasn't going to change the outcome at this point!  I started getting out the saddle in the climb and immediately my legs started to cramp.  Sat back down and concentrated on getting up the steep climb without cramping, which I just managed.  Another C grade rider was just ahead of me and I scraped together the last of my energy to sneak past him in the last 200m.
When I got back to the presentations I discovered that Iain had managed to pick up second place in D grade, just pipped to the line because he dropped his chain!  Fantastic effort for a first race and what a shame to miss that first place!  Chris's experience was similar to mine, he was dropped fairly early from B grade and rode the whole race on his own.  I think in his position I might have just gotten off the bike so kudos to him on soldiering on — it's not easy.
So learning?  Preparation and food.  I knew my training was not up to scratch — I'd barely done 100km/week for the past month, due to a combination of sickness – both myself and my family, a crash which left me without a bike, some shocking weather, and just family circumstances.  I didn't sleep enough before the race, again with family circumstances.  I probably didn't eat enough carbs in the days leading up to the race.  My elevated heart rate (still a little high even now as I write) tells me I'm still working on recovering from the flu and fitness levels aren't up to scratch.  It is disappointing to be dropped, even more so when my mate does so well in his first race — but I went along to enjoy myself and I've got to remember that!