Every Thursday lunch I try to get out with my mates for a hard ride somewhere in the foothills of Mt Wellington. Today's format was slightly different to most of the rides, and debilitating!  Stu, our resident hard man (although he just went abroad and has come back with a soft centre, but we'll soon fix him up again), suggested we do interval races: hospital to bridge, about 2.5km, gentle for the first 800m, and then 5.3% for the next 1.6km, recover over the next 4km of climbing (Strickland Ave to Fern Tree Tavern) and race again after that.  I foolishly suggested, as it was a beautiful winter day, that we race up to the Springs at 700m elevation, instead of to Neika at 500m elevation.  We would finish with an individual time trial on Huon Rd of 3.6km.
We met in Hobart city — a small bunch of 4 today — and rode up Macquarie St towards Mt Wellington, just warming up until we got to the hospital.  As soon as we hit the hospital, Stu upped the tempo and shortly after took off up the road.  We let him go.  Rode past the Cascade Brewery, not that we noticed it.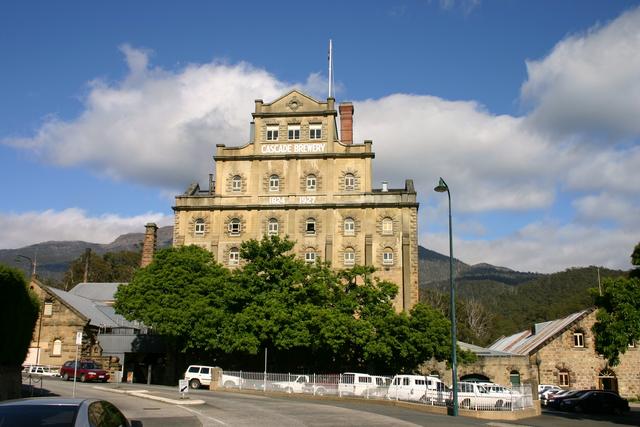 Cascade Brewery
We settled into a decent tempo with Stu about 100m up the road, and discussed if we'd try and drag him back.  There was a distinct lack of enthusiasm from the bunch.  Iain said he was saving himself for the Springs push.  More on that later.  So it was up to me.  I hit out hard, knowing that the only way to get past Stu would be to blow past him too fast for him to jump on.  I tried to keep as quiet as I could so he wouldn't be ready for me.  I caught Stu in about 20 seconds, travelling at about 33km/h, knowing that I couldn't keep that pace up very long at all — and indeed I hit threshold almost immediately after that and started to go into the red, really a bit early in the ride for that!  But mission accomplished!  I got to the end of the race section — a bridge — about 20 seconds ahead of Stu, and a good 1 1/2 minutes ahead of the bunch of two.  Shame on you Iain!
Strava tells me I rode from the Cascade Brewery to the bridge at an average speed of 24.8km/h, which is my second best performance on that segment.  But my best was, shall we say, 'slightly' wind assisted.
Tempo up Strickland Ave was good, helping my heart rate to come down, but my legs were crying out all the way up, filled with lactic acid and heavy and slow.  I was really wondering about the feasibility of the Springs climb.  But the race was on and I had to go.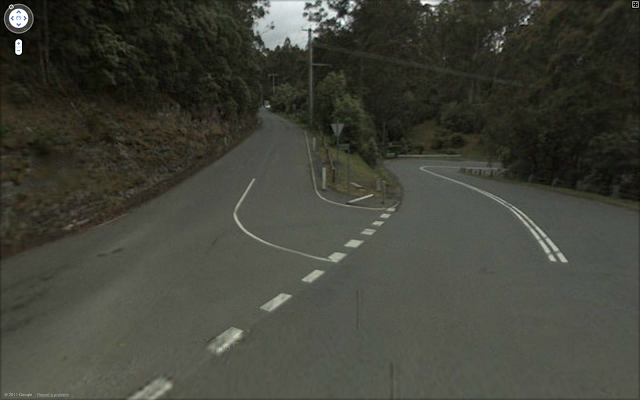 Pillinger Drive: Where the pain really starts
Scott turned up Pillinger Drive a little early having decided that riding this hard was not in his plan for today, and the rest of us followed him a minute later.  I led up the initial section, trying to set a hard pace, until we caught Scott and pushed past him.  At around that point I believe we dropped Stu, but I didn't notice until a little while later Iain rode up alongside me and matched me pedal turn for pedal turn up the climb, at a ferocious and gruelling (for us) pace.  I just kept hoping he would crack but I knew I couldn't last much longer.  My legs felt like lumps of lead on the pedals and I my breathing was nearly out of control.  Eventually, at just 1.3km into the climb, I just threw in the towel and backed off for a moment.  However Iain kept the pace up just that bit longer, and was away.  A couple of seconds later I got back into the swing of things, and even that 2-3 seconds was enough to rejuvenate me, and I stuck about 20m back for the rest of the climb.  Each time Iain climbed out of the saddle, I followed suit.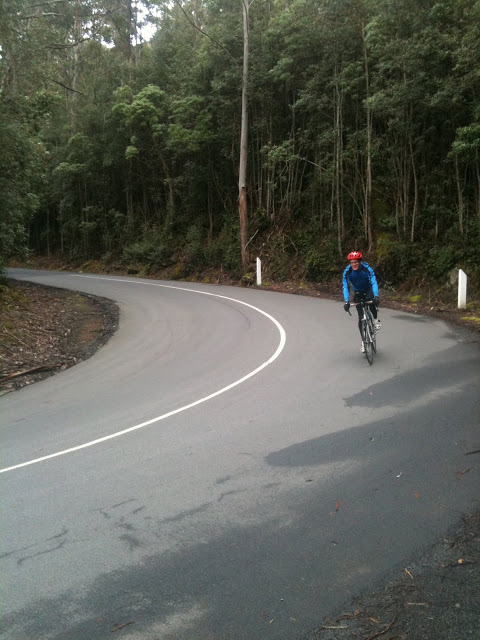 Big Bend — that smooth road is deceptive, this corner is the only smooth tarmac on the whole Springs climb
At Big Bend (the picture is from another ride), I pushed hard around the corner, but only closed about 5 metres, not enough to close the gap.  About 1km past Big Bend, the gradient eases from 8% to 4%, and all I could think of was getting there and hopefully pushing my pace up enough to catch Iain's wheel.  But it was not to be.  As Iain hit the gentle 3-4% gradient section he, obviously, accelerated, and while I was able to match his acceleration, I could not pick up enough speed to catch him.  He sprinted up the final 100m, and I just couldn't face doing the same, knowing I would not be able to catch him!  It was a phenomenal climb by Iain.  Even with the lactic in my legs from the first segment, I still cracked my previous best by 1:20 on this climb, so I was pretty happy.  I even held the KOM on Strava for the segment, for 5 minutes, until Iain uploaded his ride!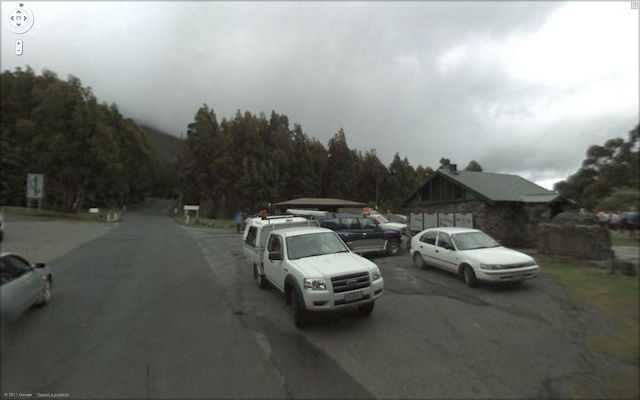 The Springs – a little busier when the Google-Car went through than when we were there!  Yes, that road keeps on going up…
When I reflect on the times that riders such as Cadel Evans and Richie Porte have achieved on this climb, I am amazed.  We averaged about 18.5km/h which I felt really wasn't too shabby for a 7% gradient.  The road surface is rough and quite damp, both of which make it significantly harder than the raw numbers might indicate.  But from what I understand Cadel was hitting speeds of over 27km/h up the climb and we hadn't even hit the steep bit of the climb to the summit.
After descending carefully from the Springs to Fern Tree – the road was still damp from the morning frost — we rolled to the Strickland Ave corner and set ourselves up for the final segment — the 3.6km downhill time trial on Huon Rd from Strickland Ave to the Skyline Petrol Station.  This section of road has a 5% gradient (downhill of course!), is smooth, with well cambered gentle bends and is really ideal for this scenario.  I am happy to say I took the line honours on this section, just catching my 10 second man Iain as we reached the petrol station, with an average speed of 58.6km/h.
I did this ride in my Strava gear which was donated by the boys at Strava.  I hope I did it justice!  As always, you can see the ride on Strava:
<br><br><br><br><br><br><br><br><br>The Tour <br>
The Tour of Tasmania is coming to town in a few months, and they'll be climbing the mountain in a Team Time Trial. Innovative, but a bit of a strange decision, I'd have thought. The winning team will be the one with the best 5 (assuming 5 over the line rule) climbers. An Individual Time Trial would have been more sensible, but a TTT will be a sight to watch!