I'm sitting down on a quiet Sunday evening writing this race report with rather a sore shoulder.  I guess I'm writing this race report for Iain — others can read if they want!  So the race was The Hell of the South, a great race run by Southern Tasmania Veterans Cycling Club, a 65km loop around some lumpy roads and including two decent climbs, starting from the small Huon Valley town of Cygnet.  This is the only race I've done with STVCC.
Today the race lived up to its name.  Unlike the gentle and gracious conditions the Orange Army were contending with in Victoria, we had a real race to fight!  The turnout to the race was surprisingly good, given the terrible weather conditions and the Around The Bay challenge happening in Melbourne on the same day.  I was feeling reasonably good about my condition and how prepared I was for the race, so I signed up for B grade.  With the format of the race being graded handicap, no drafting of other grades was allowed, so B grade was sent off last to prevent a mixup with A grade.  That's a good incentive not to get dropped…
While we waited for our turn to leave, the weather just kept getting worse, until when we finally left, it was raining properly, cold, with a bit of wind just to keep us motivated.  A controlled roll through Cygnet, then the race set off in earnest — well, not really.  I think we were all happy to ride at a decorous pace with the level of water on the road and in our faces.  When we hit the first climb, things amped up a bit but it wasn't out of this world crazy.  I ended up on the front for the descent, which was nice, because it meant I could descend at a pace that suited me, and the conditions meant that no other rider was going to try and pass.  We swapped turns in the bunch all the way through to Kettering, even getting a little bit of sunlight on the way, and things were starting to look up.  I was happy on the front for my turn, I was able to hang on in the bunch, and I was wondering if I might even be able to challenge for a podium position.  But just after Kettering, disaster struck.
I was following another rider, who I shall leave unnamed, when he suddenly sat up — I'm not sure if he then realised that he should move out of the way before slowing down, or not, but as I started to go around him, he moved right, and we crossed wheels.  I came straight off, and at least one other rider also collided with me and came off.  The other riders came off okay, but my bike was unrideable.  The left hand brake lever was twisted and was no longer working.  Without two good brakes, there was no way I was going to ride down the soaking wet descent.  So my race ended right there, at the base of the big climb.
One of the unofficial race support cars stopped to pick me up (thank you ladies!), and we took off again to follow the riders.  Not 2 minutes later, the skies opened, and started hailing in earnest on the remaining riders.  Now I wasn't sure if I was so upset about being out of the race any longer.  The remainder of the race saw increasingly sad riders grimly struggling against hail, wind and rain — not a pleasant descent of the hill!  I sat resplendent in the comfort of a nice warm car and watched their pain.
Later, I discovered that the brake lever did still sort-of work, and I could probably have straightened it out and kept riding.  However, as it was damaged I guess it's probably for the best that I didn't depend on it for the descent.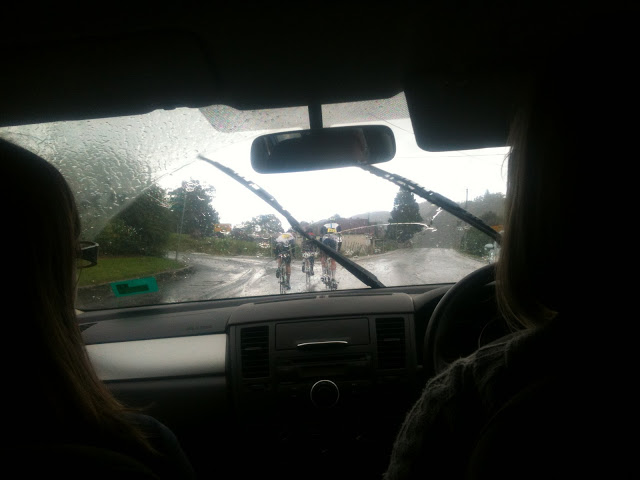 Coming back into Cygnet in the comfort of the car…  Hailing outside.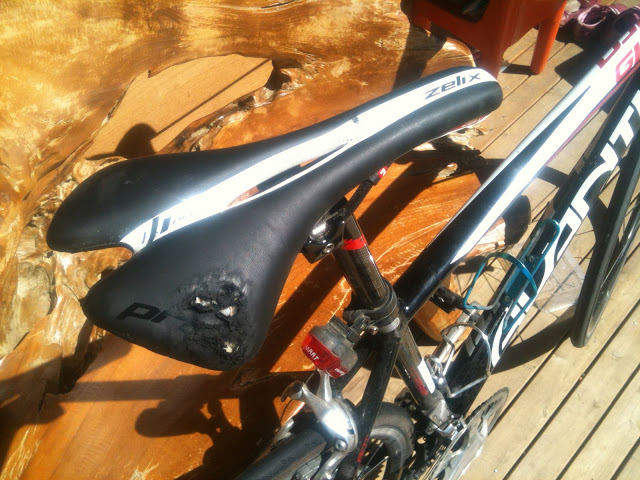 Bike seat a little the worse for wear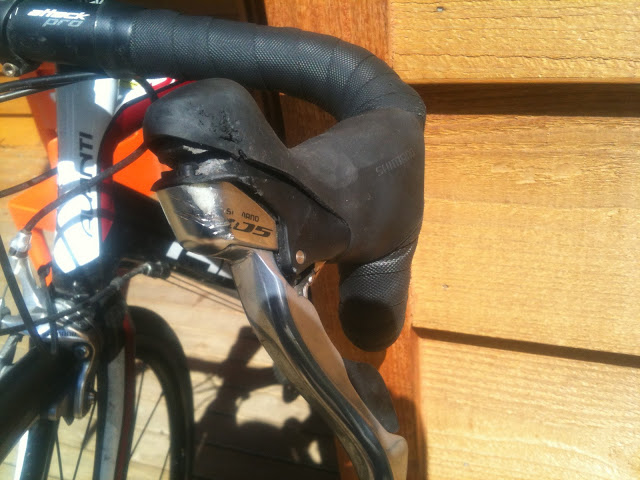 And twisted brake lever.  Sort-of working now.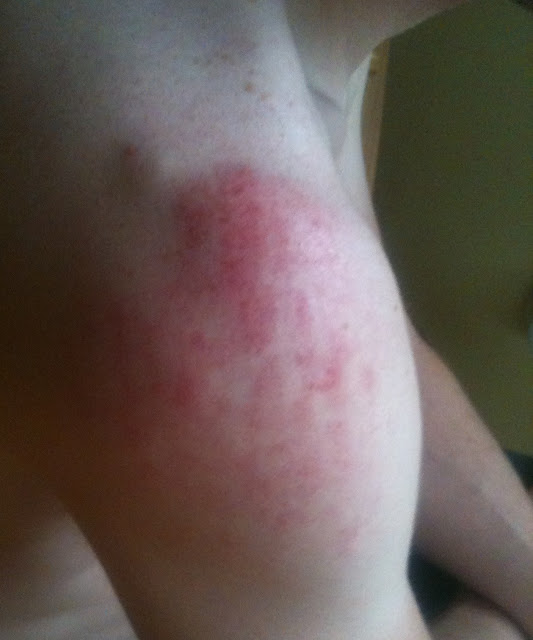 I came off lightly. (Photo by my daughter who was keen to do the photography of my bruised shoulder)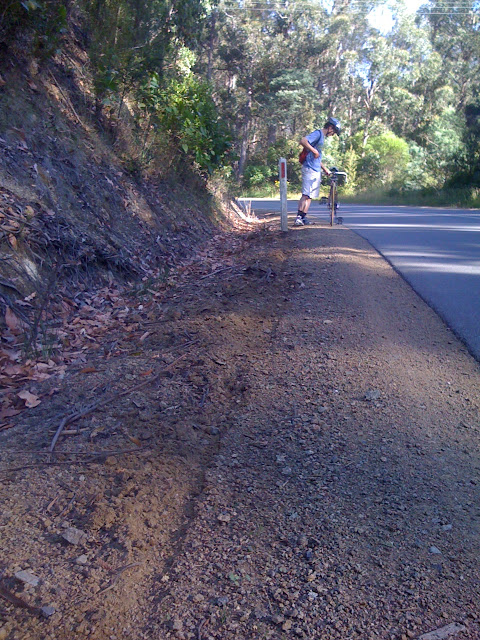 My brother survived an expected side trip onto the gravel on the big descent a couple of years ago.  Lots of fun!  And that's the only picture I have of the course…
Reviewing my ride afterwards, I don't think anyone in B grade was riding at threshold today.  At no time during this race did I find myself desperately struggling not to be dropped.  It was certainly very different to Longford – Campbelltown or Grindelwald Challenge, both of which stretched me mightily — and broke me!  My average heart rate this time was only 155, even with a small bunch and the inclement weather.
I didn't hang around long after the race — I was quite cold, late for family and well, I didn't win anything 🙂 Next time.  For now I'll have to live with the three little letters DNF next to my name…  Note — the elevation profile in the Strava map is pretty inaccurate, so everything based on that, i.e. power averages, etc, will also be out of whack.  I reckon the Garmin was so wet its altimeter was on the blink (there's a hole on the base of the Garmin for sensing air pressure — if it gets blocked, no altimeter).  Lucky I wasn't in a plane I guess.