Snow to 800 metres. 55km/h winds. Possible hail. That was the forecast that greeted us at 4:30am as we met at Tim's house, all psyched up for our 200km Freedom Ride over the central plateau back to Hobart. As we drove up north in the bus, 11 testosterone fuelled blokes discussed whether or not we would be so soft that we would fall back on the "easy" bad weather backup route. Or whether we would be hard men and tough out the weather.
As each rider spoke up and agreed that they wanted to do the central plateau route, and then also said that it would probably be a bad idea, I recalled the Launceston – New Norfolk race a few years back, that took the same route, when only 7 pro riders finished in similarly atrocious weather.
Amazingly, we had almost unanimous agreement to go the soft option. Still 200km, still over 2000m climbing, but via the east coast, with its generally milder weather. I was relieved: the plateau route was sounding more and more like a really dangerous choice, with freezing cold, wet and gusty descents and general misery!
We were riding for the charity Live Free Tassie, which works to help young people break free from addictions.  It's not too late to donate — please do!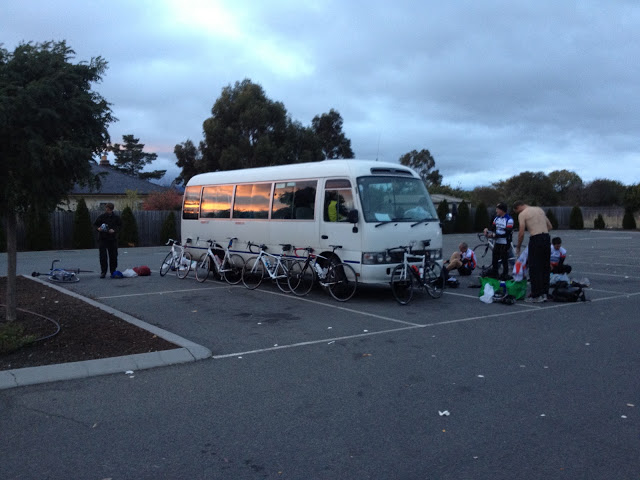 Preparing to leave Campbell Town.  Weather looks great so far.
At just after 7am, we set out from Campbell Town towards the east coast, immediately hitting the largest climb of the whole ride, which we took gently while we warmed up. The strong winds were behind us at this point, and we were somewhat sheltered on most of the climb. Over the top of the range it was cold, but it was over surprisingly quickly and with little pain.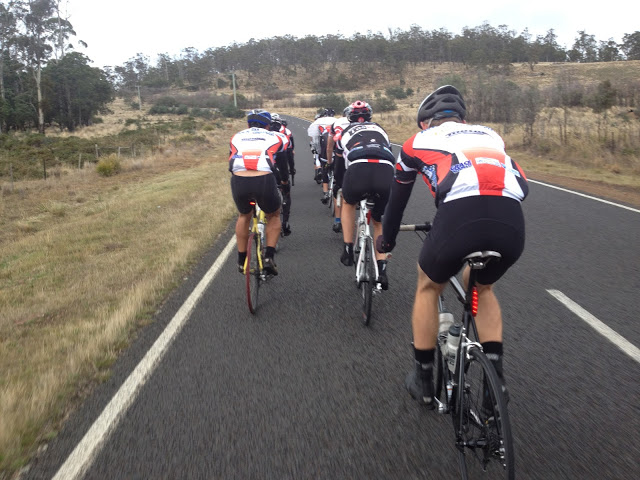 A tight well-organised bunch, rolling smoothly
The descent into Swansea was great fun and we rolled into the small seaside town well ahead of schedule. With no sense of urgency, and warm and pleasant weather, the brief toilet stop took somewhat longer than originally intended!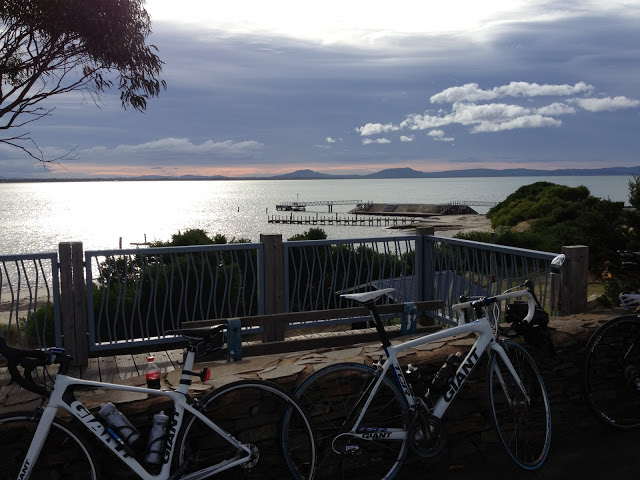 Swansea Stop
We rode the whole route in a tight, well organised bunch, with smooth roll-throughs and good communication through the group. No one got left behind and I really felt like we were all working well together. I've never been on a ride before where the bunch stayed organised for 50km, let alone 200km!  Well done Tim (our organiser) for his success in motivating the fast boys to support the bunch!
Once we got to Triabunna, the traffic got a little heavier, and we had a couple of impatient drivers attempt to overtake on blind corners and similarly silly places. As we went through Orford, we had our one and only puncture of the day, and the local police stopped by to ask us to ride single file through the narrow gorge out of Orford to reduce the likelihood of more silly moves by drivers. The puncture meant that this became our lunch stop, and again, the beneficial winds meant we were still ahead of schedule.  So again, we were in no rush…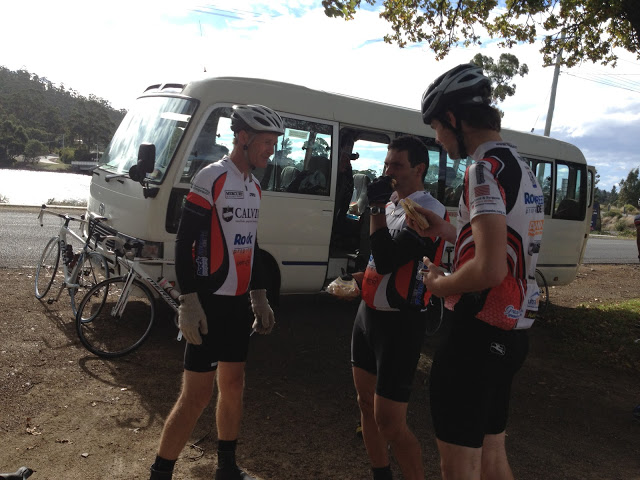 Lunch stop at Orford, 125km in, everyone looks happy!
Then we turned our noses towards Hobart. And hit the cross-headwinds. 50km/h with lots of gusts thrown in for good measure. Our average speed plummeted, and we were riding at less than 20km/h most of the time now. A few of the riders in the group were starting to feel their legs, and we encouraged them to spend as little time on the front as they possible.  As we rode single file through the gorge, a phalanx of probably 200-odd motorbikes roared past the other way, followed by a long line of classic cars.  There was to be no overtaking anyway…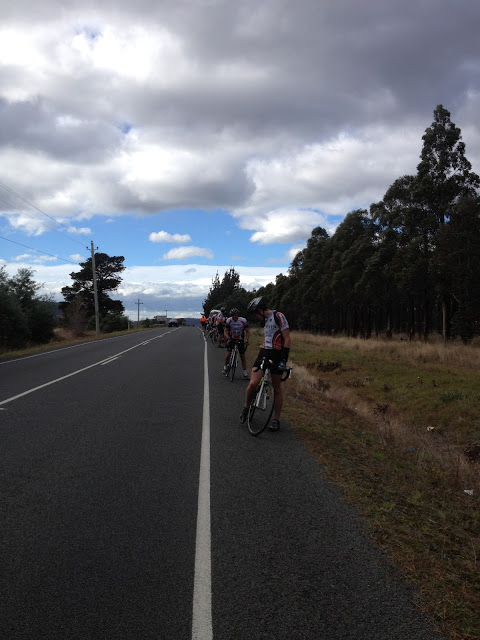 Mechanical — rear wheel change meant a bit of waiting for the group.  Just before the rain!
We struggled against the wind, as the rain and a little bit of hail started to assault us. But we survived. The worst part, for me, was the steep descents in driving wind and rain. They were not much fun.  At this point, Simon experienced a serious cramp that put him in the bus. But only for 5 minutes! He got out again, like a madman, in time for the sketchy descent. Not sure I could have done that…
The rain let up again after the hills and we just worked our way slowly back into Hobart against the winds.  We finally and triumphantly arrived, the last group to finish for the day, all our early time gains destroyed by the ferocious winds and unexpected stops through to the finish.
Personally, I enjoyed the whole day, bar the sketchy descents and the handful of crazy drivers.  I've never been as well prepared for a long ride as I was for this one, despite already having done 280km in the 5 days preceding the ride.  Kudos must go out to Trev, Mark D and Mark P as the oldest in the bunch (by some margin, too), and to Tim who did a brilliant job of organising the ride.  The whole bunch was great to ride with, and I'd do the ride again with the same guys without hesitation.  Thanks for an awesome epic ride, Brendon, Dan, Simon, Ben, Tim, Michael, Ant, Trev, Mark, Mark and Mark!  Updated: And massive thank you to Henry and Henry for driving and supporting on the ride.  Sorry I forgot to mention you initially!