I sometimes ponder on what I value in my life. Or to put it another way, what it would mean to lose certain things. I go through the things, the activities, the people in my life and imagine what it would be to no longer have them there. My house? It's a lovely house… We put a lot of effort into building it and I enjoy living in it. All the same, I can imagine not having it, and it doesn't hurt that much. It's a place to live and I thank God for His provision and yet I don't feel bound to it. My car? Pfft. It gets us from A to B and the thing I value most about it is that it rarely goes wrong.
So how about my bike? I certainly enjoy riding it. But it just costs money to replace, and God has blessed us with enough money to buy a bike. I don't feel so attached to the bike itself. Ok then, how about cycling itself?
I do love riding my bike. The challenges, racing and riding with mates, pushing myself physically, the exercise and the well-being it brings. And yet… I could let it all go, and my only real regrets would be losing touch with riding buddies, and the loss of fitness. I'd miss riding, but it wouldn't destroy me.
My job, my career? The code I create — Keyman; the business I've poured myself into — Tavultesoft; and the relationships built, respect earned? I derive a lot of satisfaction from creating computer software: turning a concept into a tool that can really help people. So what if that all disappeared? My position, my abilities, my reputation, my creations? Would that devastate?
It would hurt. I'm sure it would hurt more than I can really imagine. And yet, I can imagine a world without this job. I can't imagine what I would do, but I can imagine it.
And so as we cut closer to the quick, I start to draw back. All these various blessings of God — those that I take for granted through to those that I spend much of my waking life focused on — stripped away. Like Job. What if it happened to me? Can I really comprehend the pain of the loss of all that?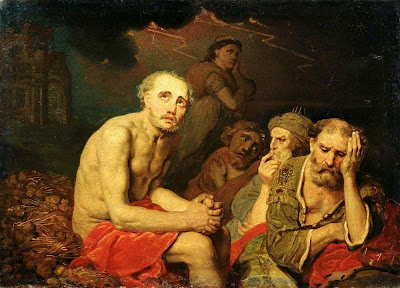 That pain. It would be as nothing to the loss of my family. That's the one place I cannot imagine arriving at. The loneliness, my tether to reality severed, my life, my soul, spinning through the void. My wife and daughters: those who are so close and can infuriate, hurt, and exasperate. Those three people who bring such joy to me, a joy that others can only glimpse a pale reflection of when I post a comment on Facebook, or drop an email to them. Even to contemplate losing them stops my heart and starts a cold, cold hurt deep within.
I can't imagine it. I shy away from the very idea. Job lost his whole family, everything, and yet he would not curse God, nor turn from Him. Do I have such a love for Him that I could continue to worship Him in the face of such devastation? To look for comfort, probably. To be angry with Him, almost certainly! But to worship Him? I don't know, and my prayer is that He would not allow me to suffer to such a degree that I could come to doubt His love for me.
It is a selfish prayer. So many people in this world suffer such loss that I couldn't bear. I sit here safe and contemplate this from the safety of my warm home, with my family around me, in a safe and comfortable country. Lord God, shatter me, make me dependent on You and You alone. I am too scared to ask this of You. But this is my tiny step of faith. I am like the father who asked Jesus "help me believe!"